19 Mar
2021+ Taoyuan Land Art Festival Art Forum
2021+ Taoyuan Land Art Festival Art Forum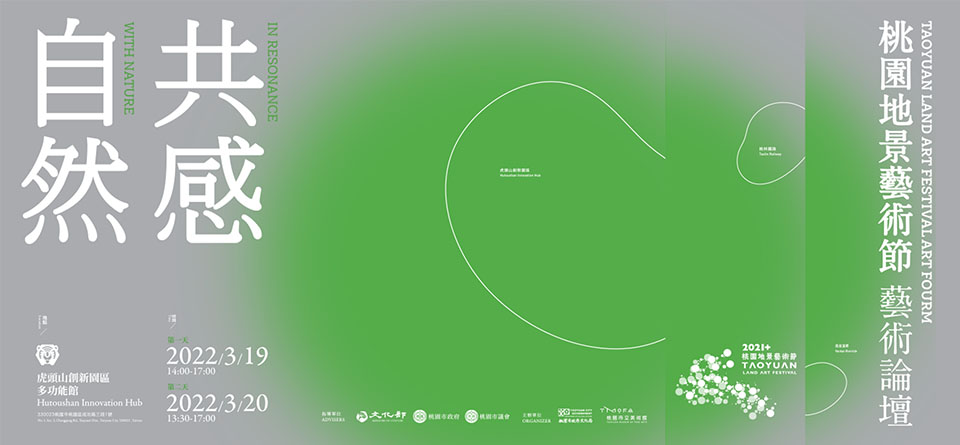 Participating artists of the 2021+ Taoyuan Land Art Festival are invited to share their art creations by delving into the aspects of local culture, history, and people's living environments. The objective of the forum is to connect the natural environments, human culture, and "emotions" of Taoyuan together, guiding festival visitors to explore the past while contemplating about future land art possibilities.
Location:
The Hutoushan Innovation Hub: Multifunctional Hall
---
3/19 (Sat.) 14:00-17:00
First session
Topic: Creating an Urban Oasis through Art(Part 1)
Second session
Topic: Creating an Urban Oasis through Art(Part 2)
---
3/20 (Sun.) 13:30-17:00
Third session
Topic: Viewing Urban Landscapes via the Concept of Art
Fourth session
Topic: The Natural Experiences of Art co-Creation
---
To hold various promotional activities, the Multifunctional Hall must collect applicants' personal information so that it can reach them when necessary. The hall will comply with the Personal Data Protection Act, shoulder the responsibilities and obligations of protecting applicants' privacy, and adopt appropriate technology and procedures to protect applicants' private personal information such as their names, dates of birth, e-mails, contact numbers, and National Identification Card numbers. Such information will only be used to for event-related identification, statistical, and learning certification data registration purposes. Participants agree to have the Multifunctional Hall post photographs and videos of them participating in the events on platforms such as the hall's official website, annual reports, and Facebook fan pages for educational promotion purposes, among others.