14
A Conversation between the Stag and the Deer
A Conversation between the Stag and the Deer
Artist WANG Wei-chiuan is dedicated to practicing environmental arts with drift wood and making drift wood reborn and return to the Nature with the simplest and most eco-friendly way.

The wood carving stag is attracted by stag's horn fern and thus stops to gaze it with absorbed attention as if two stags are having in-depth conversations. Another deer is hopping not far away, making other deer raise their heads to look around.

This is a place where dogs living in freedom with the occasional company of night herons and squirrels. Now drift wood and stag's horn fern also join them in this big family. A conversation between natures is quietly taking place here.
Material:Driftwood、iron
Dimensions:L1.7✕D1.3 ✕H2.6m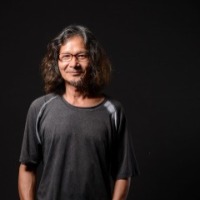 王偉權
Wang Wei-Chiuan
Taiwanese artist, born at Shengang, Taiwan, in 1958
Experience:
2008: Wang Wei-Chiuan Art Studio established
2017: Interviewed by TVBS, Apple Daily, Next Magazine and other media outlets
2019: Interviewed in the 873rd episode of Super Artists Design, Beautiful Life Television
Exhibitions:
Expo at Songshan Cultural and Creative Park, Taipei; Art Revolution Taipei (2021)
Art Taichung; Art Kaohsiung; Expo at Songshan Cultural and Creative Park, Taipei; Art Taipei at World Trade Center (2020)