3
Water Connection Circle
Water Connection Circle
With the image of circles caused by ripples, this project explores the aesthetic of relations between human beings as well as between human beings and land. The staff and students of Department of Art and Design of Yuan Ze University worked with local residents in the Gaolian community to jointly weave "Water Connection Circle," a work resonating among creators and visitors. With recycled threads and cotton or linen strings that are commonly seen in our daily lives as materials, this project connects circles with colors in the landscape to build the connections between human beings and further to link up human beings with land. "Water Connection Circle" is located at a footpath along the Guoling Drainage of the Shi-men Canal, where rice paddies and ponds surround red-brick-built compounds. Among the bright yellow and fresh green in the natural landscape, there exists the world of mortals. It is hoped that visitors, while walking through the footpath, will be attracted by "Water Connection Circle" and take notice of the hidden co-existence of ponds, rice paddies and settlements of residents to further link up the past, the present and the future.
Material:Cotton linen thread, Hula hoop, Cotton T-shirt
Dimensions:(3-1)L9 m x W0.05 m x H2.5 m(3-2)L7 m x W0.05 m x H3 m
24.952139, 121.187556 x 24.952917, 121.187528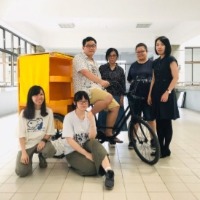 元智大學藝術與設計系 X 桃園市平鎮區高連社區發展協會 X 桃園市平鎮區雙連里辦公處 X 桃園市平鎮區高雙里辦公處
DEPARTMENT OF ART & DESIGN, YUAN-ZE UNIVERSITY X
GAUOLIAN COMMUNITY DEVELOPMENT ASSOCIATION X
OFFICE OF SHUANGLIAN VILLAGE, PINGZHEN DISTRICT, TAOYUAN CITY X
OFFICE OF GAOSHUANG VILLAGE, PINGZHEN DISTRICT, TAOYUAN CITY
臺灣、香港、馬來西亞 Taiwan, Hong Kong, Malaysia
Department of Art and Design of Yuan Ze University collaborates with residents of communities by means of "art engagement" to jointly create new values of communities and re-connect the relations between men and men as well as men and land. The communities it currently collaborates with include Taoyuan's Neili Village, Daxi's Renyi Village, Taitung's Chishang Township, and Keelung's Taiping Community.