Under the Wing
Please come to enjoy a cup tea and feel the breeze blowing and sunlight shining in the sheltered space "Under the Wing"! This work makes the most advantage of the bamboo material to form a naturally curving roof with its characteristic of flexibility. Layers after layers of smoked bamboo splints covering the roof showcase a warm tone of color and form a feather-like texture. It resembles a giant goose perching on the lawn when looking from afar. In terms of the overall structure, bamboo tubes are arranged in a crisscross pattern and the top roof are built with double layers to achieve the scale of the work. The intersections of bamboo tubes are further tied up to increase the stability in addition to traditional wrapping skills. Metal joints are also used to connect the main structure and steel-made floor to reinforce the safety and durability of the building. Semi-open space enables the air to naturally flow through and allows visitors to freely enjoy a cup of tea with their minds at rest.
Material:Bamboo, Steel, Wood
Dimensions:L4.5m x W3.1m x H2.3m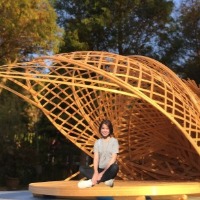 許郁楨

HSU Yu-Chen
臺灣 Taiwan
HSU Yu-Chen holds an MFA in product design from Edinburgh College of Art and is currently a product designer and curator, covering a wide spectrum from information technology, art and industrial design. HSU is keen to explore the interdisciplinary commonality, to seek for independent thinking and acute perception, and to care for animals and environment.