Unbox Taoyuan
Unbox Taoyuan tells the stories of immigrants in Taoyuan in four parts.

8-1 "Memory Trace," focuses on objects. All kinds of trivial objects reveal the stories and memories of ordinary people's immigration. Immigration and relocation have never been easy. Be it mainlanders fleeing the war to Taiwan, aboriginal tribes relocating due to public infrastructure, factory workers moving to Taoyuan to earn a living, or new residents immigrating to Taiwan for work or marriage, these immigrants harbor their own bitter and sweet memories. This work turns the installation of suitcases into the collection of memories and reveals the stories and memories of these immigrants.

8-2 "Sound Trail," uses sounds to guide audiences to experience the traces of diversified ethnic groups in Taoyuan. This work creates a space for leisure under a banyan tree, where a teapot is placed on top of a table, a sign of welcoming outsiders to Taoyuan. The chessboard conveys two-folded meanings: on the one hand, it means that those who play chess here are locals who have been blended into the local lifestyle; on the other hand, it also symbolizes the exchanges of people from different ethnic groups, like the exchanges of chess players. Meanwhile, the interactive sound effects also broadcast various languages heard on the streets in Taoyuan. Different languages tell stories of different ethnic groups, demonstrating the connection between their individual culture and local Taoyuan.

8-3 "Next Stop, Taoyuan Station," is set at the abandoned railway tracks. The image of a railway station symbolizes the arrival of immigrants from various ethnic groups at Taoyuan, while the packages of stories and interactive multimedia installations introduce the multi-ethnic characteristic in Taoyuan. The packages of stories cover five major ethnic groups in Taoyuan: aboriginal tribes, Minnan, Hakka, Chinese mainlanders, and immigrant residents. Through images and objects, audiences are able to better understand their respective backgrounds and cultures. On the other hand, the interactive multimedia installations are set up next the tracks to imitate the trains passing the Taoyuan Senior High School Station. The somatosensory devices will project the images of audiences with headwear and accessories of various ethnic characteristics to reproduce the scenes of people from various ethnic groups arriving at Taiyuan by trains.

8-4 "Beyond the Sky," ends the series with the future prospects. A luggage trolley suggests the concept of flying high into the sky. Audiences are invited to push the trolley and take photos as if getting ready to march into the unknown sky. The vast sky symbolizes the unlimited future. The unexpected sky on the stone wall is a symbol of breaking through frameworks and limitations as well as the barrier of misunderstanding. It is hoped that the image of people pushing the trolley and flying into the sky will bring the prospects of people jointly building a better life of diversity and inclusiveness in Taoyuan.
Material:《Memory Trace》Iron, Wood, FRP, Ready-made Objects;《Sound Trail》Iron, Wood, Sound Playback Device; 《Next Stop, Taoyuan Station》Iron, Wood, LED Panel, Computer, Interactive Sensor, Ready-made Objects; 《Beyond the Sky》Iron, Wood
Dimensions:《Memory Trace》L4.5✕W1 ✕H2.8m;《Sound Trail》L4✕W2.5 ✕H1.6m;《Next Stop, Taoyuan Station》L5.6✕W2✕H3m;《Beyond the Sky》L5✕W2 ✕H2m
25.002059, 121.320131 Memory Trace
25.000163, 121.322332 Sound Trail
24.998105, 121.325675 Next Stop, Taoyuan Station
25.001866, 121.322740 Beyond the Sky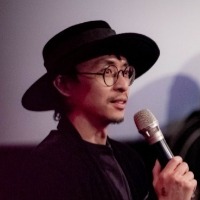 西米設計 蔡歐寶
CMIE Design TSAI, Ou-Bao
When I was a child, I dreamed to be a scientist standing next to Neil Armstrong because the outer space is a charming space without gravity. Likewise, the digital world is also an unlimited existence that breaks through the atmosphere and the three-dimensional space defined by the Cartesian coordinate system. The interdisciplinary creation of new media by means of computing is probably the closest I've ever been to my dream in childhood. Like a scientist with a painting brush on his hand, I try to discover new possibilities for curation in the trigonometric space. I enjoy my curation work. In the face of future fantasy and the space of immersive theater, I make every effort to achieve my goals.
"With the strong desire to leap into the future, I am making every possible preparation for the day. Am I ready for the future?" -- Ou-Bao