To Live with You
When the Yue-tao River flowing under the Chongde Road day after day and night after night, how would people interpret the relations between their lives and the river? When people coming and going on this land, how much would they remember about the river? In a routine summer day with frogs croaking and cicadas chirping, how would the invisible river converge with the river in their memories? How would the sky portray the landscape? What kind of footprints would lives leave behind? And how would water flow through various sections of lives?

When I arrived here with my camera, I would live with this land. Those who I have encountered and what I have seen would become the objects where I seek for answers. The recorded vocabularies, figures and traces will be jointly woven into private talks left for following generations.
Material:Video
Dimensions:Full HD, Color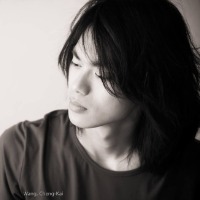 WEI Lauwei, born in Kaohsiung's Chishan and graduated from the Graduate Institute of Trans-disciplinary Arts of Taipei National University of the Arts, has always been exploring and learning among human beings, lives and videos. His creations often begin with exploring life and relations. Starting from the relations between human beings, objects and locations, he is used to thinking about how human beings interact with their environment and to looking for possible cross-boundary relations for re-creation through video recording. He has the privilege to work with various teams and artists in recent years and visit Japan, Okinawa, Thailand and Indonesia to engage in multi-national art actions and meanwhile to explore more possibilities for thinking and developing his art creation.