4
The Ripple Maze at Gaoshuang
The Ripple Maze at Gaoshuang
"The Ripple Maze at Gaoshuang" is a natural sculpture in the rice field located at the agricultural area in Taoyuan City. The magnificent scenery in the rice paddies reminds the artist of his childhood memories. Ripples caused by the farmers in the rice paddles gently undulate on the surface of water and become the artist's most beautiful creation and nurture his life. The giant sculpture of ripples in the middle of the rice paddy resembles the bountiful golden harvest after the farmers' hard work and tedious care. The artist uses water as the main image to initiate the artistic creation and put it into practice, and the final product takes shape jointly with the concept of a maze. Human beings appear insignificant in the face of the Nature. However, every path and every turn we take on the way to find ourselves is beautiful. Out lives also grow in the process of consistent searching.
Material:Bamboo, Steel, Wire
Dimensions:L29.2m x W29.2m x H3m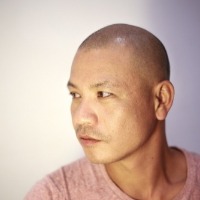 李蕢至
LEE Kuei-Chih
臺灣 Taiwan
LEE Kuei-Chih is known for using local materials from specific fields in the Nature for artistic creations and then recording the creations by means of photography and video. His landscape art works features the fluidity of time and nature, and meanwhile explore the relations between mankind, nature and environment. Place is one of the important elements in his art creation, in which he collects materials from the place and incorporates arts into the natural sceneries in that place.