The Garuda Has Landed
The work of Indonesian artist Effan ADHIWIRA was inspired by Garuda, a legendary bird-like creature on the Indonesian national emblem in which the Garuda's claws grip a white ribbon scroll inscribed with the national motto "Bhinneka Tunggal Ika," meaning "commonality in diversity." The motto also reminds us that in such a society of diverse cultures, ethnic groups and religions as Taiwan, being tolerant and inclusive is not only a necessity but also an inevitable concern in the process of building a city.
This work features an outline of bamboo material with a strong sense of structural integrity, which is not only in line with the motif of this year's Land Art Festival but also demonstrates the inclusiveness of both tradition and modernity. The style of spreading wings echoes the core position of Taoyuan as an aerotropolis and also symbolizes all visitors gathering under the wings of unity in Taoyuan city to co-build a beautiful future of peace and joint prosperity.
Material:Bamboo, Steel pieces, Concrete
Dimensions:L14.2m x W20m x H5.4m。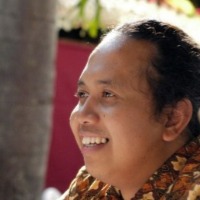 埃凡.阿迪維拉
Effan ADHIWIRA
印尼 Indonesia
Effan ADHIWIRA graduated from Universitas Gadjah Mada and obtained a certificate from the Architectural Association School of Architecture in the UK. After returning to Indonesia, he has been committed to traditional architecture research in the villages on Flores Island, where he realizes the integrity of traditional architecture, the power of local wisdom as well as the value of culture in life.
He has worked in IBUKU, a well-known bamboo architecture team in Bali, Indonesia, and then out of the concern about regional architecture, established Eff Studio in 2011 to focus on using bamboo as the main material either structurally or aesthetically and to set the use of local materials as the goal of his studio.