1
The Corridor of Memories
The Corridor of Memories
With bamboo as the main material, the artist employs the weaving methods and unique patterns of Hakka traditional bamboo splint woven articles to create several bamboo-woven arches and form a corridor with multi-layer space, waking up people's romantic feelings toward the Hakka life and meanwhile building a tunnel of memories for visitors to travel through.
Under the sunlight, "The Corridor of Memories" forms rich variations of patterns and shapes of shadows on the ground created by different angles of sunshine. While lights and shadows are under the feet, the clear blue sky is high above the head. This work expects to create interactive effects with the natural landscape and showcase the multiple cultural image of endless continuity and heritages.
Material:Makino Bamboo, Steel Rebar
Dimensions:L20m x W3m x H2.5m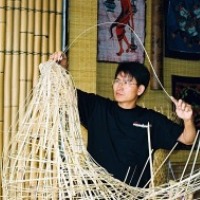 徐暋盛

HSU Min-Sheng
臺灣 Taiwan
HSU Min-Sheng, an internationally renowned bamboo artist, has received many awards both in Taiwan and abroad, and has been invited to showcase his works at art galleries and museums in France, Spain, Germany, Canada, and the United States. In 1997, he joined a bamboo weaving heritage plan, hosted by craftsman Li Rong-Lie and organized by National Center for Traditional Arts, and thus launched his journey of learning bamboo weaving arts. Inspired by the cultural value and importance of heritage of the bamboo weaving art, he is committed to the creation and teaching of bamboo weaving in the hope of passing on this declining art to next generations and has since then opened up another chapter in his life. He further establishes a bamboo art gallery to involve himself in teaching bamboo craft and creating public art works with bamboo. By upholding tradition while pursuing innovation, he hopes that the general public will better understand and get closer to Taiwan's bamboo craft and culture.