19
Swing Under the Bamboo
Swing Under the Bamboo
"Sense of Nature" is the aesthetic core of YU Wen-Fu's creations. The artist holds that "human beings, as wild animals, are highly sensitive to their environment when their minds are crystal clear without any interference. However, in today's society where sensual stimulations and human interactions overwhelm everything with the development of high technologies, human beings' aesthetic instincts are gradually worn out."
"Swing Under the Bamboo" is in line with YU Wen-Fu's consistent flowing style and features such natural images as bamboo forests, clouds in the sky and flying with large amount of bamboo tubes and weaves, responding to the elegant pasture in the farm and forming a strong contrast to industrial development in the neighborhood. Entering the farm is like entering another refreshing fairyland. It is hoped that visitors can experience and grasp the transient moment of lightness and beauty in this space!
Material:Bamboo splints, Bamboo sticks, Makino bamboo tube, Swing
Dimensions:L20m x W10m x H5m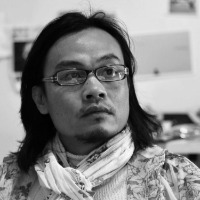 YU Wen-Fu lives with his parents in Zhushan, Nantou. Born into and growing up in a family engaged in the bamboo craft, he has been immersed in the traditional hand-made craft since his childhood and developed high interest in various art forms, such as painting, calligraphy and inscription. YU Wen-Fu uses two rural natural materials, bamboo and feathers, to create art works that cover a wide range of different types, such as graphic arts, three-dimensional arts, installation arts, environmental arts and landscape arts, featuring strong person style and characteristics.