11
Shuttle back and forth
Shuttle back and forth
The fortress that has once been full of austere and tense atmosphere is now transformed into a park for parents and children after that page of history has been turned over. This project tries to link up two different times and spaces with the image of a hole to integrate the new and old cultures as well as to lead audiences to the historical traces behind the hole. Abstract and substantial lines and color blocks, representing sense and sensibility, are intertwined into unlimited circles similar to fluid and endlessly extending annual rings of trees, which symbolize the continuous and diverse growth after the integration of new and old cultures as time goes by. When we try to cut through the history to vent the tension, the time and space is translated into a fluid condition. Viewers standing at the converging point of the two times and spaces thus induce more imaginations and dialogues about that period of history.
Material:Wood, Spray paint, Mixed media
Dimensions:Dimension variable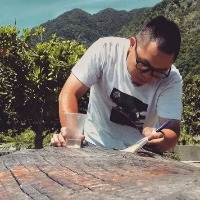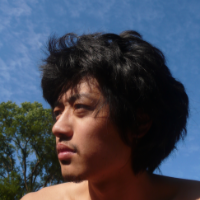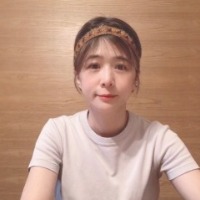 林暐翔 x 王榮鴻 x 劉晉安 x 蔡秀玲
LIN Wei-Xiang x DISK x LIU Chin-An x TSAI Hsiu-Ling
臺灣 Taiwan
LIN Wei-Xiang has worked with various art groups and produced large-scale creations for artists since 2018. He has participated in many art festivals both in Taiwan and abroad, and absorb experiences from the productions of various media, trying to contextualize them in his own creations.
WANG Rong-hung, aka DISK, is a Taiwanese graffiti artist and has engaged in this art form since 2010. He is famous for using colorful blocks and neat lines to construct a new world, where reality and fantasy are woven together with both abstract and concrete elements. He is also good at presenting heavy reality with a touch of humor.
LIU Chin-An is graduated from Department of Fine Arts of Taipei National University of the Arts in 2020. During his undergraduate study, he most engaged in the ceramic and wood creation. In contrast to academic learning in the system, he is mostly cultivated with the experience of participating in outdoor large-scale art creations.
TSAI Hsiu-ling holds certificates from the Association of Germany Florists (FDF), Goethe Floriculture international Academy (GFIMA), and German Blumen Werk Schule (BWS).