Neverwhere
The area of Nei-tsuo Village and Chi-pa Village, where the Ketagalan tribe was located, was marked as the Jhi-Ba-Li Sha of the Pingpu ethnic group (Taiwanese plains indigenous peoples) in ancient maps. Where have the ancient ethnic groups gone today? Did they disappear in the process of the Han people's cultivating Taiwan in the Qing Dynasty? This work aims to re-think the subtle relations among human beings, land and history through cultural and historical studies along with the artist's experiences in the field study.

Hoes were important tools in reclaiming wasteland for cultivation and thus closely related to the history of reclaiming wasteland, while ancient pioneers used to raise a flag to secure their ownership of wasteland. This work therefore combines the images of hoes and flags to symbolize the meaning of "demarcation." The size of hoes is enlarged and the flags are embroidered with semi-fictional signs of the Pingpu ethnic group obtained during the field study. The flying flags represent the intangible past as well as the toke of the indigenous residents yielding land to the Han people.
Material:Iron frame, Flag Soil, Stone
Dimensions:Each L1m x W1m x H3m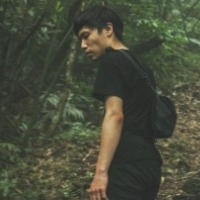 梁廷毓
LIANG Ting-Yu
臺灣 Taiwan
LIANG Ting-Yu, a native Hakka artist in Zhongli, holds an MA from the Graduate Institute of Trans-disciplinary Arts of Taipei National University of the Arts. Prior to pursuing undergraduate study in Taipei, he had studied and lived in Zhongli. His art creations center on the relations between ethnic histories and land. The latest project is part of the Art Festival of Romantic Route 3. It is an art project that combines field study and local research, focusing on the interactive memories and history between aboriginal and Hakka ethnic groups and presented with planned art actions and videos of mixed media. Most of his works have been presented in the forms of seminars, workshops and theses in journals and conferences of such related fields as cultural study, history and anthropology.