Guardian Eye
The Nankan River, a river that carries the common memories of local residents, used to be so close with people and nurture the lives of locals. Unfortunately, with the advent of the industrial society, it had changed beyond recognition and thus been abandoned. Now, with the collective defense and protection, we are fortunate enough to have her back and embrace her again.
The work, resembling a mild and narrow eye, is intertwined with the Qingxi Bridge. The brightness and temperature of colors grants the eye a shade of jimsonweed, while infinite circles symbolize that life never ends. This Guardian Eye represents our admiration to and reliance on the Nature.
Material:Resistance band
Dimensions:L5XH5m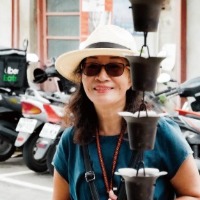 楊海茜
YANG Hai-Qian
YANG Hai-Qian is known for her talents in delicate and complicated hand-made artistic creations. Her work, Joy After Harvest, showcased at the 2017 Taiwan Lantern Festival with the theme of agricultural communities, demonstrates exuberant artistic tension. Her stunning performance was highly acclaimed and attracted wide press coverage.
With students coming from both Taiwan and abroad, she has been invited to create works for special events, such as the 2017 NTCH Christmas event, Light Up the Night, as well as the 2018 and 2019 the Taiwan Lantern Festivals.