House of Yuzhang
"House of Yuzhang" symbolizes the sense of belongingness condensed behind the "culture of water" as well as the happiness and blessing of living and working in peace and harmony.
Artist WANG Wen-Chih has being working with bamboo for a long time. Such characteristic of bamboo material as its smell, touch and loading are deeply hidden in the life of ordinary people.

"House of Yuzhang" features multi-layers of bamboo weaving and allows the sun and the moon to shed lights through the house alternatively in the day and night, filling the space with pouring lights and reflecting the call of historical memories and aesthetic perspectives linked with the general public by the expression of cohesions of visuality, emotions as well as time and space. Audiences can feel and exchange in the natural realm and such encounters, like sparking shadows dancing in the light, arouse unlimited sweet memories cherished in the heart of each individual.
Material:Bamboo, Wood, Steel, Steel construction
Dimensions:Approximately L13m x W12m x H10m (No include railway)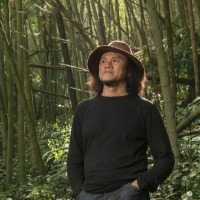 王文志
WANG Wen-Chih
臺灣 Taiwan
WANG Wen-Chih was born in 1959 in Chiayi, Taiwan, and pursued further study in France after obtaining his MFA from the School of Fine Arts in the Taipei National University of the Arts. He held three solo exhibitions in Taipei Fine Arts Museum between 1995 and 2017. He represented Taiwan at the 2001 Venice Biennale and has been active in the art scene in Europe, Asia, and Australia. He often chooses local materials in his works based on the creative concept of "mankind and nature." He incorporates local weaving skills to express strong regional cultural affections, which are put into practice in his large-scale public art and landscape art works. Between 2010 and 2019, he was invited to take part in the Setouchi Triennale four times in row and his large-scale landscape works in Shodoshima reminded visitors of the close connection between mankind and the nature.