2
Hearing the Sound from Nature
Hearing the Sound from Nature
This work transforms the shapes of Calla Lily blossoms into the shapes of human ears, meaning that we visually see the Nature on this meadow in the city and have a good time with our families and friends, but at the same time, we also hear the sounds and laughter of each other. Due to the charms of the Nature, we're able to keep this moment of beauty by means of sounds and thus create precious common memories in the people-to-people relations.
Material:FRP、plants、stone
Dimensions:L1.3✕W0.9 ✕H0.7m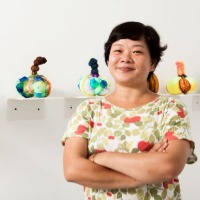 黃美惠
HUANG MEI-HUI
HUANG Mei-hui is currently an adjunct lecturer in the Tainan University of Technology and a full-time artist known for her installation works and engraving paintings. Most of her works are created with the shapes of seeds or plants as the blueprint. They are of multi-colors and in variation of shapes, lending a large room of imagination for the extension of life.