Harbor
The tea ceremony does not only make the body, mind and spirit breath, but also enable people to have dialogues with the nature.

The design of "Harbor" aims to convey the experience of a tea ceremony with both external and internal concepts. The external is a natural expression by reducing the level of artificialization as if the bamboo forests create natural rhythms with the surrounding environment. The internal structure, on the other hand, is a space under a dome constructed with bamboo weaving craft. After entering the space, visitors are surrounded by tranquil and uninterrupted atmosphere just like the experience of a tea ceremony.

The two-layer structure embodies the change of different moods inside and outside, and also more effectively enhances the overall stability. The structure can be dissembled and reassemble easily and therefore meets both the affectional and functional requirements.
Material:Bamboo
Dimensions:L5.6m x W3.6m x H3.5m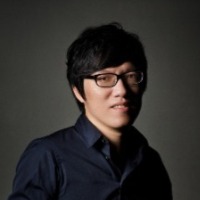 周育潤

CHOU Yu-Jui
臺灣 Taiwan
CHOU Yu-Jui is currently head of the KEV Design and has been recognized by many international awards, including Philips' digital frame design, IDSA in the United States, iF Design Award and Red Dot Design Award in Germany, and Maison & Objet in France. He deems design as an act of exploration to investigate the interactions between human beings and objects. He also compares his designs with wine produced in his own vineyard, where products in each year taste differently. Although that means higher risk of failure, it creates more possibilities in design to think from a variety of perspectives. Thus he is dedicated to making unique designs with the subtly and originality used in winemaking.