Flowing Waters
Flowing Waters is a piece of textile work inspired by the Nankan River. The watercourse separates people from the river and restricts people's access to the waters. Many rivers were angular and linear in the past, but now they lose the curves and the water areas become flat. They have been conquered and tamed by human beings. The artist hopes that people will remember the original flowing shapes of waters through watching this work and keep in mind that waters in the purest shape are constantly changing to adapt to the environment and even ground the stones into sands. Human beings are nothing but the sands carried by the flowing waters. We're unable to stop the waters. Is it the waters and rivers shape our roads and cities or the other way around? Audiences are invited to sit or lie on the work to feel it.
Material:Metal Structure, Textile
Dimensions:L14✕W32✕H4m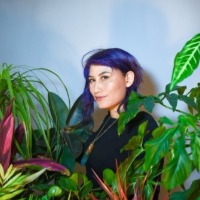 Lua RIVERA
Born in Mexico, Lua Rivera is an installation artist. She tries to use arts to erase the boundaries between disciplines, promote a free interaction between them, and allow the exhibition to transcend the walls of the gallery. Lua bases her art works on processes such as nesting, growth, and adaptation of organisms. As a visual artist, she is distinguished by her continuous search and use of multi-disciplinary resources such as intervention, collage, photography, and textiles to create unique works.