27
Dripping into the Invisible River
Dripping into the Invisible River
The development of petrochemical industry and rapid urban development led to serious water and land pollution in Taiwan. Wastewater, if discharged without proper treatment, would result in rainbow-like colors in the rivers. Chongde Road next to Dalun Elementary School used to be the Yuetao River, which is now partly covered by pavements and becomes an invisible landscape. Given that many of Taiwan's textile factories are located in the Taoyuan area, this project, a collaboration with staff and students of Dalun Elementary School and Dalun Junior High School, uses wasted fabrics from local textile and printing factories and recycled clothes and flags from our daily lives to turn the colors of textiles into images of waterdrops and streams, trying to highlight the issue of water resources pollution. Through seemingly romantic colors and styles, the project explores both visible and invisible rivers to further examine the value of the clothes and textiles that we wear as well as the issues thus derived.
Material:Recycle fabric and clothes, Hanger, Wire
Dimensions:Approximately L1.8m x W2.2m x H2m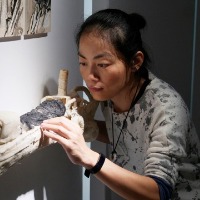 康雅筑 X 桃園市中壢區大崙國民小學 X 桃園市立大崙國民中學
KANG YA-CHU X
DALUN ELEMENTARY SCHOOL, ZHONGLI DISTRICT, TAOYUAN CITY X
DALUN JUNIOR HIGH SCHOOL, ZHONGLI DISTRICT, TAOYUAN CITY
臺灣 Taiwan
An interdisciplinary artist of mixed materials, who questions the relations between human beings and natural environment as well as social issues through practice of arts. Her art research, based on cultural history of textiles and appearance of contemporary social behaviors, explores handicraft and physical labor, living condition and possibility of migration, as well as the relations between economy, trade and social structure, and also focuses on how modernity has impacted tradition, economic system and natural environment. Travel and experience of art residency have imperceptibly affected how she perceives the world. The themes of her creation are often reflected in borders and life process, which drives her to explore self-consciousness and the possibility of sustainable situations. She has published three volumes of Textile Map and participated in various art education projects in collaboration with communities.