CONNECTION
This work illustrates the beauty of traditional bamboo weaving craft with the style of flowing space, thus creating a "connection" between the craft in the past and the digital space that represents the future. The weaving of free-form surface creates textures of different density and portraits a flowing space that connects and communicates between the inside and the outside as well as between the upside and the downside.
Structurally speaking, bamboo splints are woven into the warp and woof of strong curving surfaces, which are then supported by four sets of vertical pillars. All parts can be dissembled into different blocks and then re-assembled into different shapes. Such precise and economic construction brings forth a work of bamboo structure that "connects" Taiwan's craftmanship and modernity in the 2020 Taoyuan Land Art Festival.
Material:Bamboo, Metals
Dimensions:L5.4m x W5m x H4.9m。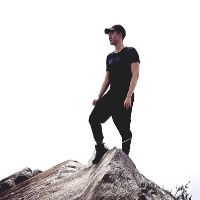 李柏均

LEE Bo-Chun
臺灣 Taiwan
LEE Bo-Chun graduated from the Department of Architecture in National Taiwan University of Science and Technology. He is currently working in the field of architecture and interior design. Out of personal interest, he has been dedicated to creation and research in the digital space for years and has been interested in the wisdom demonstrated in traditional craftsmanship. He hopes to combine new tools with traditional craftsmanship to extend the wisdom of traditional craftsmanship from the level of handicraft to a broader area of public space.