Being with you
Artist JEN Ta-Hsien is known for his skills in metal sculpture to create styles intertwined with both physical and abstract spaces through visual vocabularies built with extended lines.

Based on his care for stray dogs, the artist features the stray dogs, which have lived in the park for a long time, either stretching themselves or engaging in friendly interactions with human beings. Using iron material to shape the main structure, the artist vividly shows these adorable and funny dogs.

By enlarging the sculptures, this product allows people to walk underneath these dogs, aiming to encourage people to see stray dogs from a different perspective. It also serves as a symbol of minimizing human egos to make people reconsider the due respect to the lives of stray dogs.
Material:Iron, Paint
Dimensions:L10✕W5.5 ✕H4.2m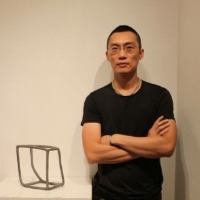 任大賢
JEN TA-HSIEN
JEN Ta-Hsien was born in Kaohsiung and graduated with a BA from the Department of Sculpture of National Taiwan University of Arts and then with an MFA from the Graduate Institute of Plastic Arts of Tainan National University of the Arts. He won the Taipei Art Awards in 2006 and held his solo exhibition, "Radioactive Rays" at the Museum of Contemporary Art Taipei in 2007. He is currently living and creating in Tainan.